I loved working on the halloween costumes for Parent's magazine this past year. Halloween has always been one of my favorite holidays because crafting is such an essential part of it - going out on halloween night and seeing handmade costumes is the best. You can make something totally crazy, wear it all night, and people go nuts for it! What other holiday is like that?
For the 2017 costume story, Parents asked me to come up with ideas that would (hopefully) actually be funny. It was definitely a challenge to think of ideas that would make adults laugh but are appropriate and fun for kids to wear. My sense of humor is not always kid-friendly, but most kids I know are hilarious, so it was fun thinking of concepts.
To test the sizing of the costumes, Parents sent me some kid-size dress mannequins which lived in my living room for about a month. A little creepy, but very helpful for figuring out the fit.
One of the ideas we went with that was the most educational for me was the slime costume. I've been under the impression that slime is neon green and dumped on your head during a game show, à la Nickelodeon, but apparently nowadays kids are making slime at home with Elmer's glue. This version of slime is often pink and sparkly (or even rainbow colored and referred to as unicorn poop). I tested ideas to make the green Nickelodeon-y slime (bubblewrap and surgical gloves), but heard from my editor that we needed to go in a different slime direction.
This slime needed to be pink, swirly, and sparkly. We ended up using pink ribbed tights stuffed with pool noodles and batting. I also tried a version where two cotton dresses are layered with batting in between and then lines sewn on to create sections.
I like this option although it could have gone a little more cream puff than slime. In the end, the pool noodle swirl method looked best. Having so recently learned about the slime of today, I was a little unsure about whether it would work or not but luckily the model who wore the costume (Jaliyah Mariah) was a huge fan of slime to begin with and LOVED it. She totally rocked it and did mind being stuffed inside a pool noodle swirl covered in glitter one bit. Here's a side by side of the final costume and "real" slime.
The other costumes went through a couple different versions as well. For the "nacho baby" costume, I tested a few options to find the right shade of felt to use for the tortilla chips - the chip needed to be chip-colored but not the same shade of yellow as the cheese.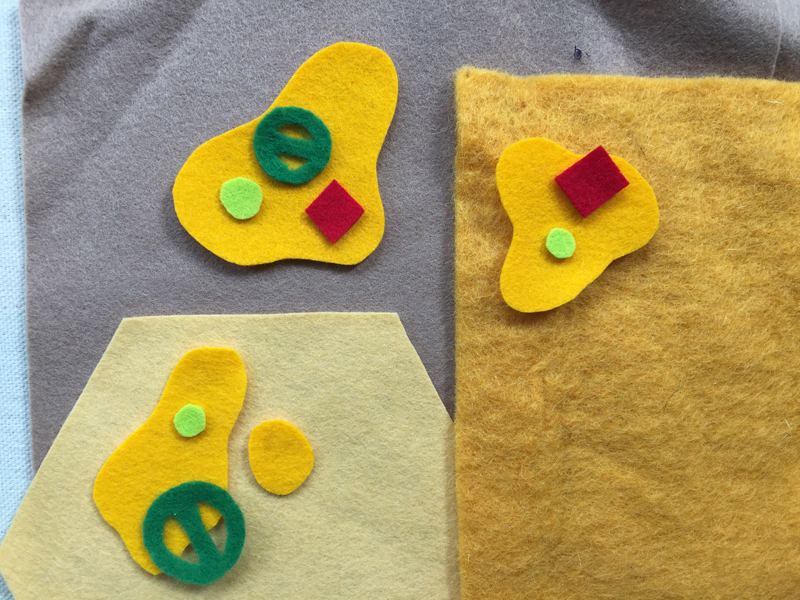 Luckily, Purl Soho has the best shades of felt so I was able to figure out the right combo. Purl also came through with some amazing, whimsical yarn for the unicorn dog's tail. A friend lent me her dog, Izzi, to test drive the unicorn dog costume. Izzi is less than thrilled but a good sport about it.
The dog who wore the costume for the shoot, Danger, was even more chill than Izzi about wearing the costume and not shy about taking a nap in it.
Danger is relaxing on one of the set pieces made by Sara Foldenauer who did an incredible job. I loved the palette and the props - such a cool set for the costumes!
For the avocado toast costume, I experimented with number of slices of avocado and toppings. The perfect slice of avocado toast is a delicate balance of composition and texture, as any self respecting hipster would know.
The model for the toast was really able to sell the "I'm so millennial" thing.
My assistant Eddie also wears some avocado very well.
It was a super fun shoot with a great team - Ari Michelson took the awesome final images, Annie Caruso brought the best clothes and accessories, Thora made their hair and makeup look incredible, and Melanie Sawyer made sure the kids were all having fun. To see the rest of the images from the shoot, check out the project in my portfolio.